John T. Hayden KG4BFJ

April 24th,1962 - August 17th, 2010
Friend, Fellow Ham Radio Operator
A "Cruiser" at heart.

John T. Hayden,48, of Saint Cloud passed away on Tuesday August 17,2010. Born in Pennsylvania he moved to Florida many years ago. He was a self employed tow truck driver. He was a member of Shingle Creek First United Methodist Church of Kissimmee. He is survived by wife Carol of Saint Cloud Son Edward Hayden of Saint Cloud, daughters, Krystinia Marie Hayden, Saint Cloud and Samantha Hayden of Saint Cloud. Vickie Hayden of New York. MEMORIAL SERVICES will be held at 5:00PM on Saturday August 21,2010 at the Shingle Creek First United Methodist Church 2420 Old Vineland Road in Kissimmee. Pastor, Daniel Martinez, Officiating.
John was a man of faith, a caring member of the American Red Cross disaster team. A Member and Communications officer for DEARS. A member of the ARRG.US, OTARC groups. He was heavily involved in Emergency Radio Communications and Disaster Preparedness. John was a mentor to others in both his faith and hobbies. He enjoyed attending the car cruises in Saint Cloud as well as Old Town. Linda and I are proud to call him our friend.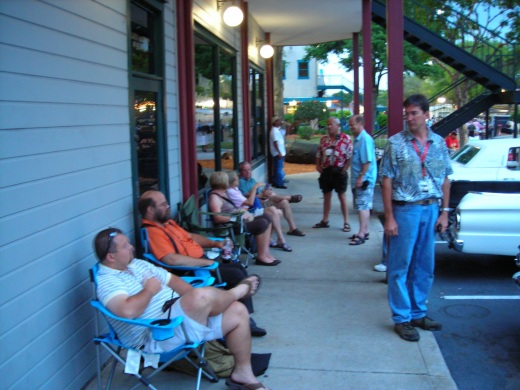 Here is John hanging out with Kevin, KM4FSU, Mike, N4HHA, Carole. Linda, K4EIO, Fred from Michigan, Graham, G4HFG/W4HFG and Steve, K4SLB on a Saturday at Old Town.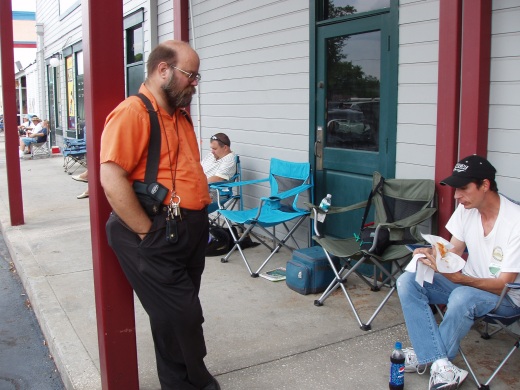 John visiting with Ted, KE4TTE that same day.